Soloist Guitar Donja 20 Joachim Schneider, 65 cm scale length
Manufacturer:
Joachim Schneider
Art. No.:
DMI.JS.D20.2012.1

from our series "German Master Instruments"
soloist's guitar "Donja 40"
scale length 65 cm
top class instrument for very high demands
made of finest resonant wood
back and sides with high-quality Madagascan rosewood
best, fine-pored spruce top (tone wood)
helved Spanish Cedro neck
ebony fretboard
whole instrument with finest handmade French polish
high-quality precision mechanics
headstock with ivory inlay
nut and bridge inlays made of ivory
wooden mosaic inlay at the bridge
soundhole decoration, with wooden mosaic inlay
excellent sound
very tasteful and individual design
master instrument of the Vogtland

Download PDF-catalogue from Master Joachim Schneider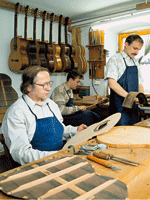 Master Joachim Schneider (born 1939 in Markneukirchen) learnt the plucking instrument building work from his grandfather (Willy Blahowetz).
In 1961 he passed his final master exam. Only one year later he became autonomous and took over his grandfathers workshop. Since then the master guitar maker has specialized in the production of classical concert and soloist guitars.
In 1970 he attained the distinguished rank of "Recognized Artistic Craftsman" for his work. International guitar makers awards followed later on.

Since 1978 his eldest son Master Steffen has been working in the paternal workshop. He received his Master Certificate in 1982 and tought his abilities in the vocational school.
In 2008 Master Schneider's grandson Alexander joined the tradition and began to work in the family company as well.
It is today the fifth generation of master guitar makers who manufacture hand-made master instruments in Master Schneider's workshop for classical guitar building. Consequently, the instruments reflect these many years of tradition and the exchange of experience with numerous soloists from all over the world.
In over one hundred years of tradition Master Joachim Schneider manufactures instruments ranging from the solid concert guitar up to the high class model with tops of finest Struce, hand-made French polish, bearing a wide range of modulation.
The soloist guitars are particularly characterized by the following features:
easy response,
brilliant and voluminous tone,
balanced sound from bass through treble range,
excellent modulation,
high carrying power even in large halls.
Master J. Schneider puts a lot of emphasis on accurate workmanship and fullfilment of special desires. Individual figuration and the selection of finest wood for his instruments are a must. So there is used only high-quality, carefully selected tone wood that has been seasoned for several decades.
The Schneider guitars are highly appreciated by renowned soloists as well as teachers and students, in Germany and abroad. Honoured with several international prizes in guitar making, the guitars also gain fine recognition from professional musicians at music fairs and exhibitions.
This instrument is available from stock. There is no time of waiting at SchneiderMusik that can occur with some instrument makers.
We offer the instrument that is shown and described here. Because this instrument is a handcrafted unicum, it can be delivered only once.
Further instruments by Master Schneider or by other Vogtland masters are naturally available on request.

In case of any further questions you can contact us by e-mail support@schneidermusik.de or by phone +49 (0) 37437 531077.